Resources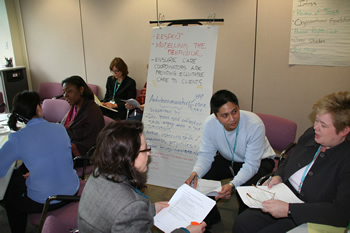 Books:
Colour-Coded: A Legal History of Racism in Canada
Constance Backhouse
Becoming an Ally: Breaking the Cycle of Oppression
Anne Bishop
Looking White People in the Eye: Gender, Race and Culture in Courtrooms and Classrooms
Sherene H. Razack
Race to Equity: Disrupting Educational Inequality
Tim McCaskell
Dancing on Live Embers: Challenging Racism in Organizations
Tina Lopes & Barb Thomas
The Spirit Catches you and You Fall Down: A Hmong Child, Her American Doctors and the Collision of Two Cultures.
The Color of Water: A Black Man's Tribute to his White Mother
James McBride.

"Staff feedback on the foundation level training was overwhelmingly positive! Gloria and Douglas are sensitive and engaging facilitators. We are planning the second level of training and will work with them on our broader diversity strategy. We recommend them whole heartedly."
Louise Goldhar
Associate Director, Services and Operations Toronto Region CNIB