Workshops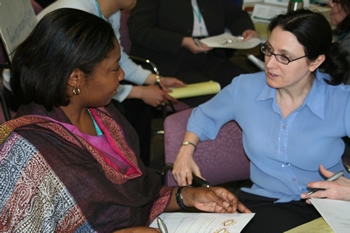 Foundational Cultural Competence Workshops for boards, managers, staff, & volunteers
This foundational workshop creates common language and frameworks between individuals, teams and levels of an organization and introduces basic principles of anti-oppression, equity, power, privilege and cultural competence.
Level Two Cultural Competence
Training and Next Steps Customized for the Organization
When an organization or team has established a common approach to working across differences we can customize the next levels of training or organizational development processes to fit their specific needs.
Foundational Workshop Outline
Purpose:
An interactive and experiential workshop for managers, employees and teams who want to enhance their knowledge, skills and values to effectively analyze and respond to challenging diversity issues. Participants will improve their ability to work across differences and enhance their consistency in complying and working within the organizations diversity and core values mandate.
Cultural competence is a dynamic process of framing assumptions, knowledge and meanings from an individual's background and experience, which is different from our own. Cultural competence builds on cultural sensitivity, the concept that knowing as much as possible about specific cultures enhances the ability to effectively work across differences, by exploring the knowledge, values and skills that are key in responding effectively to bridge differences regardless of knowledge of specific cultures. These knowledge, values and skills address systemic barriers that impact the differential experience of individuals in society. These differential experiences may be as a result of age, religion, race, gender, socio-economic situation, creed, sexual orientation, ethnicity, etc…
Target audience:
Employees at all levels
Course Outcomes:
The training model is experiential and is based on popular education and adult learning approaches/concepts that creates openness by drawing on lived experiences and bringing everyone into the learning process. This training process will explore all the intersecting levels of diversity and establish and reinforce common understandings with regards to the guiding principles and values of the organization.
Following the course participants will:
Know what culturally competent practice is
Have a framework for working with diverse populations
Have an awareness of cultural stereotyping
Have a framework for navigating the impact of culture & systemic discrimination
Know how to identify, recognize and make links between different kinds of discrimination
Have an awareness of the differential impact of systemic discrimination, power and privilege
Have an ability to negotiate personal values vs. organizational values/policy/procedure/expectations
Have tools to effectively analyze and respond to challenging diversity issues
Have an understanding of the requirement to ensure the organization and the environment is positive and respectful and programs and services are inclusive accessible and proactive.
Sexual Harassment Coaching Workshops
Competence Consultants & Associates specializes in training in the areas of cultural competence, diversity, and equity in the workplace. One of the training programmes they provide is a one-on-one customized coaching workshop on Sexual Harassment.
The workshop assists individuals to explore and seek insight into their conduct in the circumstances where they have been found to have violated their organization's sexual harassment policy. The workshop assists individuals to explore recognition of indicators that sexual harassment is likely to be occurring, awareness of social and personal influences on their conduct, recognition of the impact of sexual harassment on victims and women generally, legal and policy compliance related to sexual harassment, recognition of personal/organization liability, accountability and responsibility, and the management of their personal behaviour accordingly.
The workshop is offered in two different modules:
3 hours (one session), which includes a post-test.
6 hours (two 3 hour sessions), which includes a written homework assignment and post-test.
The contracting organization receives a final report and a copy of the take home assignment and post-test.
The 6 hour module is recommended as it facilitates more positive outcomes for increased awareness development and changes in future behaviour.

Competence Consultants provided us with the tools and confidence to begin to think critically about how we function in the world.
Deborah Gardner
Executive Director Volunteer Toronto